Welcome to Blue Ladder Construction
Dean's love of building began as a teenager attending Central High School in Rapid City. He helped his father build a post and beam house on the family ranch during those years. Growing up, Dean worked the family ranch every day. It's this lifestyle to which Dean attributes his strong work ethic.
Before starting college at SDSU, Dean joined the National Guard for two years and spent four years serving active duty in the US Army and as a member of the 82nd Airborne Division before being honorably discharged.
Throughout his professional career, Dean has been fascinated with finding solutions to big problems. With an unquenchable thirst for knowledge — and a degree from the South Dakota School of Mines and Technology — Dean followed one unique opportunity after another to round out his professional experience. From musical event stagehand to aviation pilot and mechanic to CAD drawings and surveying in civil engineering, Dean built his skillset around activities he found intriguing.
After working in the construction industry in one capacity or another for over 30 years, Dean found that many self-proclaimed professionals left a trail of shoddy work for others to fix.
When life nudged Dean toward his career in construction and remodeling, he knew he'd found his calling. Pride in workmanship and problem-solving skills quickly made Dean popular with clients. One thing his father instilled in him was, "If you're going to do a job, do it right the first time!" It's a motto that turns customers into repeat clients and friends.
Credentials
Dean is a member of the Black Hills Home Builders Association, NAHB (National Association of Homebuilders) Remodelers, and the International Builders Association. After working with architects, engineers, and city planners, Dean has gained the experience to navigate local politics, policies, and building requirements.
As a licensed contractor in the state of South Dakota, Dean chooses only the best employees to work alongside him as he grows his business and reputation. Corey, Dean's right-hand man, stepped into his role with a degree in construction management, and it didn't take long to establish himself as a valued member of Dean's team.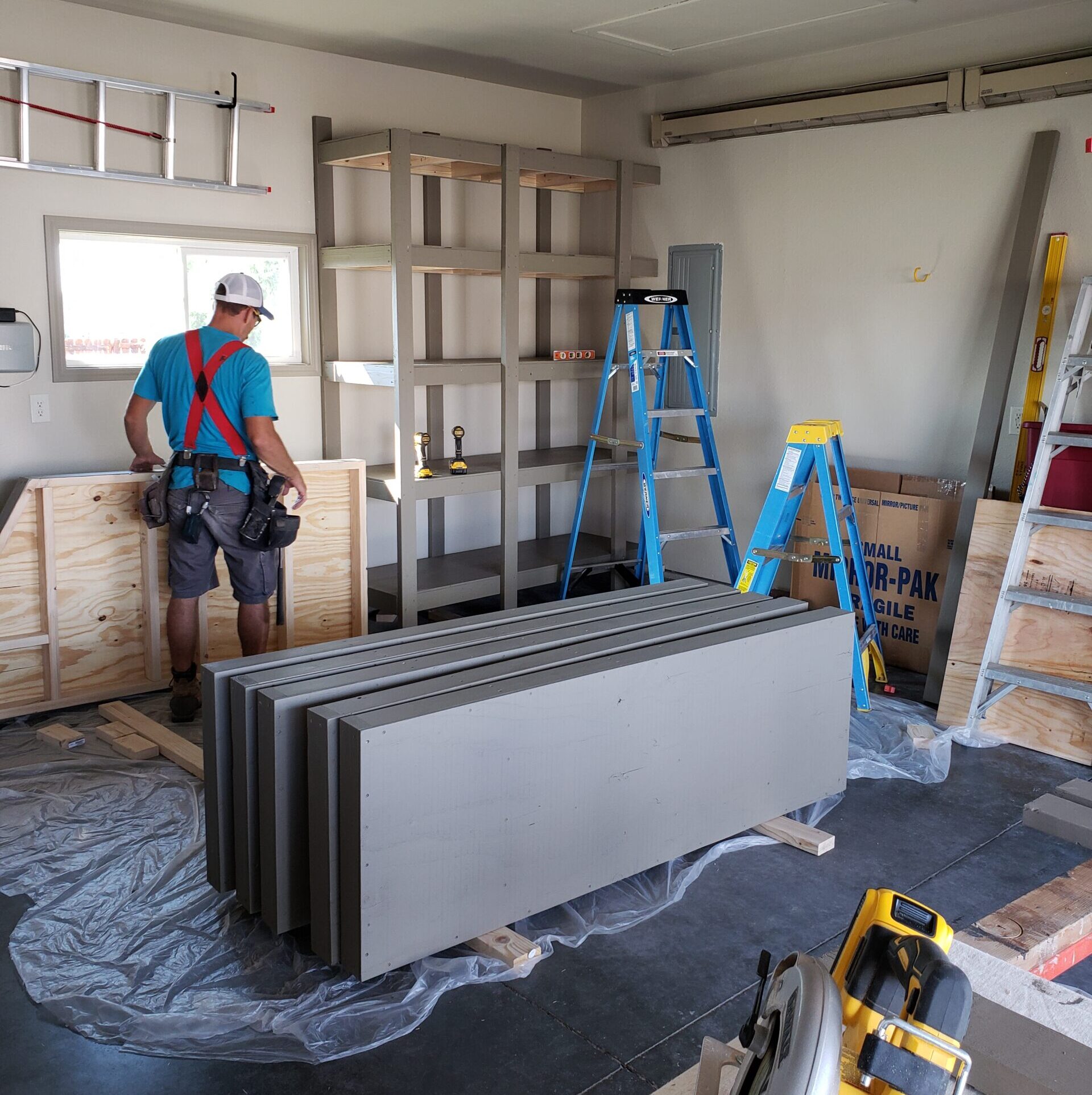 Services
Blue Ladder Construction provides high-end carpentry services for home remodels and repairs.  Our custom-made artistic finishes are designed to perfectly match your preferences. We use premium materials to craft fine finishes throughout your remodel. Our unique designs are elegant and eye-catching, often the highlight of a home.
Remodeling, including kitchens, bathrooms, laundry rooms, mudrooms, garages, and basements

Stylish custom-built cabinetry, including shelving, storage, built-in display pieces, and accent walls

Siding
Decks

Fencing

Drywall

Painting

Millwork, doors, and trim work
Our Process
When you contact Blue Ladder Construction for an estimate, we'll schedule a time to visit your home or project site. We'll work together to discover your vision's perfect design and plan to make it a reality. From there, we'll manage your project every step of the way.
Dean will provide you with a job estimate and a time frame for the start and finish of your project. While he likes to keep as close as posible to his estimates, Dean can't guarantee an exact price per project. He's seen the scope of many small concepts change into much larger projects. Because of this, Dean prides himself on transparency. He'll keep you informed throughout the process. Dean takes pride in his work and provides his clients a great experience. 
Rebecca W.
Dean went above and beyond for us with our new fence. He did an amazing job and the workmanship is amazing. This fence will last a long time and is beautiful to look at. We are very happy with how it turned out. They also cleaned as they went, no construction mess left at all. You never knew they had been there when they had finished their work.
Gary C.
Very professionally done work always kept me aware of every stage and step they were in and communicated everything they were doing and I saw the work they did it was absolutely incredibly good I would recommend them to anybody that needs work done
Ken Brown Rapid City SD
We have had Dean and Cory build us a new Trex rear deck and they did a wonderful job. We wanted new doors and windows and again they did a wonderful job.
The high points of dealing with them is the communication and quality of the work! They stay on task and if they see something they let you know and show you and give you options without being pushy.
I have found that they really care about the work and will bend over backwards to keep me in the loop.
My advise is to try them I don't think they will disappoint you.
Anita Lee, Hill City
I was surprised to find a hose to my washing machine had broken and flooded my laundry room and dining room when I was away.  I called Dean and he arrived the next morning, assessed the damage and went to work.  He took up the flooring, vacuumed out the water under the floor and left his huge fans running under the floor for 3 days.  He replaced the flooring, repaired damaged sheetrock, and had the place looking like nothing had happened in a few day.  These guy are the best!  I'd recommend them to anyone.
Joe and Sandra McFarland
Blue Ladder has completed numerous projects for us. The first was expanding our second floor deck to almost three times its original size. Careful consideration was given to ensure the beams used had extra load bearing capacity. The project turned out great! At Strider World Headquarters, the crew successfully removed load bearing walls and installed replacement beams to expand offices. They relocated electrical and computer terminals and sheetrocked, all on weekends and evenings so as not to disrupt workers. Lately they have restained and repaired wood on our house, repaired stucco, and relocated electrical outlets. All work has been done exceptionally well with attention to all details, including cleanup. We think Blue Ladder is great, and we have recommended them to our friends.